Looking for a customer chat plugin for your winery's website? This article will help you get set up with a very awesome customer chat tool that won't break the bank.
Slow email response times just don't cut it for excellent customer service, and an increasing number of people are expecting that a website will have customer chat nowadays.
To meet those needs, more and more businesses are adopting customer chat on their websites. Wineries included.
Which Customer Chat Solution Should I Use?
Unfortunately, customer chat products tend to be pretty expensive.
Drift is one of the most popular customer chat solutions, and their "Team" plan (ideal for smaller businesses with multiple employees) will cost you $400 per month to have running on your winery's website.
Thankfully, there's an even better solution that won't burn a hole in your pockets:
ManyChat.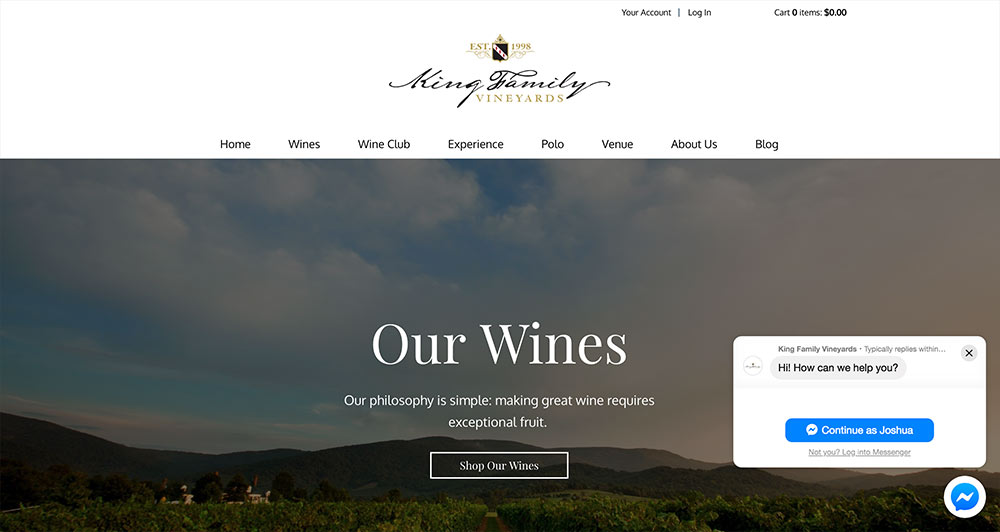 Yes, the same thing we've been recommending wineries start using for Facebook Messenger Marketing ALSO doubles as a customer chat plugin for your website.
It's free to start using ManyChat, and that includes access to the Customer Chat widget. If one day you feel like you want the some of the other cool stuff it can do, it starts at just $10 per month. That sure beats Drift's $400.
Anyone who sends you a message on this chat plugin will be automatically subscribed to your Messenger list as well, making it the most worthwhile solution to use. Everything you can do with email marketing, you can do with Messenger marketing, only better. And we're seeing jaw-dropping open rates of 90% and above for our winery clients.
King Family Vineyards (shown above) has gained 674 subscribers so far from their website chat plugin alone, without running any promotions.
How To Get Started
Set-up is a piece of cake.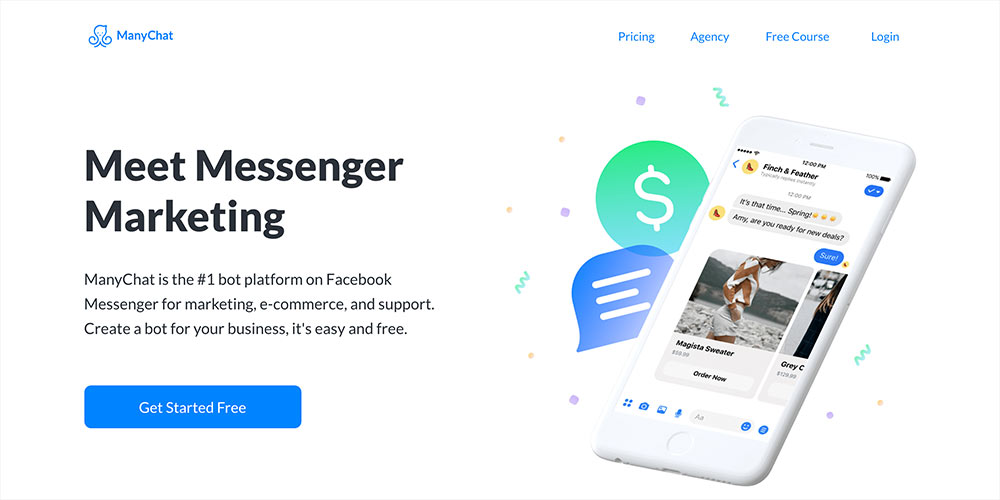 First, sign up for ManyChat by clicking "Get Started Free". That's not an affiliate link, just an honest recommendation.
Once you're in the ManyChat dashboard, go to Growth Tools on the left.
Click on the blue "New Growth Tool" button, then choose the "Customer Chat" option at the bottom of the list.
You'll see a new window with a split screen layout — on the right, a picture of a phone, and on the left, configuration options.
In the left hand configuration side, click "Setup" and then click "Install JavaScript Snippet"
A window will pop open where you add your website URL. (i.e. winezebra.com)
Click "Next" and copy the code it shows you, then click "Finish."
You will paste that code in your website's <head> tag.
If your website is on WordPress, you can (and should) use the "Head & Footer Code" plugin to easily paste in that code without modifying your website code. On Squarespace, you'll go to Settings > Advanced > Code Injection and paste it into the Header code box.
Once you've done that, head back over to ManyChat.
Click "Save" at the top if the button is blue (if it's gray, ignore it) and then click the adjacent switch to move it from "Draft" to "Active". If it asks you to check the widget, just choose "continue without checking."
There you go! I would also recommend changing the opt-in message to a more customer service feel.
If you have any trouble, just click my picture on the chat window on this website here and ask me for help.
A Cautionary Tale
When email first came around, CEOs scoffed at it and told their employees not to bother with it, that it would never take off, and that they should stick to fax.
We all know how that played out.
Messenger is the new Email. You owe it to yourself and your winery to start adopting it, unless you want to get left in the dust and have to play a fierce game of catch-up later on.
Start building your list today, even if you don't have any immediate plans to use it.
There's no easier way to start than by putting the ManyChat's Customer Chat module on your winery's website.