SEO can be confusing if you're not a computer nerd.
Thankfully, most wineries don't need to worry much about SEO, or invest a huge amount of money into it. The best bang for your buck is free.
In this article, I'll show you exactly what you need to focus on.
What is SEO?
Search Engine Optimization (SEO) is the practice of making your website appear higher up in search engine results for any particular keywords, by any number of methods.
SEO is generally thought of as being split into two main categories: On-Site SEO and Off-Site SEO. The latter tends to be much more expensive, and mostly unnecessary for most wineries.
Who Needs SEO?
Everyone needs SEO. The question is just the extent to which you need to focus on it.
Let's look at dentists as an example. Dentists require a very strong focus on SEO.
They will tailor their website to include headers and keyword optimization for phrases like "best portland dentists," including it in their website title, meta tags, inbound links, and so on.
They'll pay other websites to link to them with the phrase "best portland dentists" in the link text.
What About Wineries?
Wineries need SEO too. Thankfully, you're going to have a much easier time with SEO than a dentist would.
People will search "best oregon wineries," but to include "best oregon winery" in your website title may come off as a little arrogant.
And that's fine, because mostly, the websites competing for "best oregon wineries" are publications like Thrillist, TripAdvisor, winecountry.com, and so on. Not actual wineries.
You don't need to compete with those publications. If anything, you should be more focused on making their "Top 10" lists.
What Kind Of SEO Do Wineries Need?
Let's think about how people use Google to find wineries to visit.
If someone lives in Oregon, chances are they're going to be searching for "oregon wineries," a phrase that gets searched 2,100 times per month.
If they have a finer idea of where they're looking to explore, they'll search based on the city, so "dundee wineries" for example.
Whether they search for wineries based on state or city, their search results are going to look like this: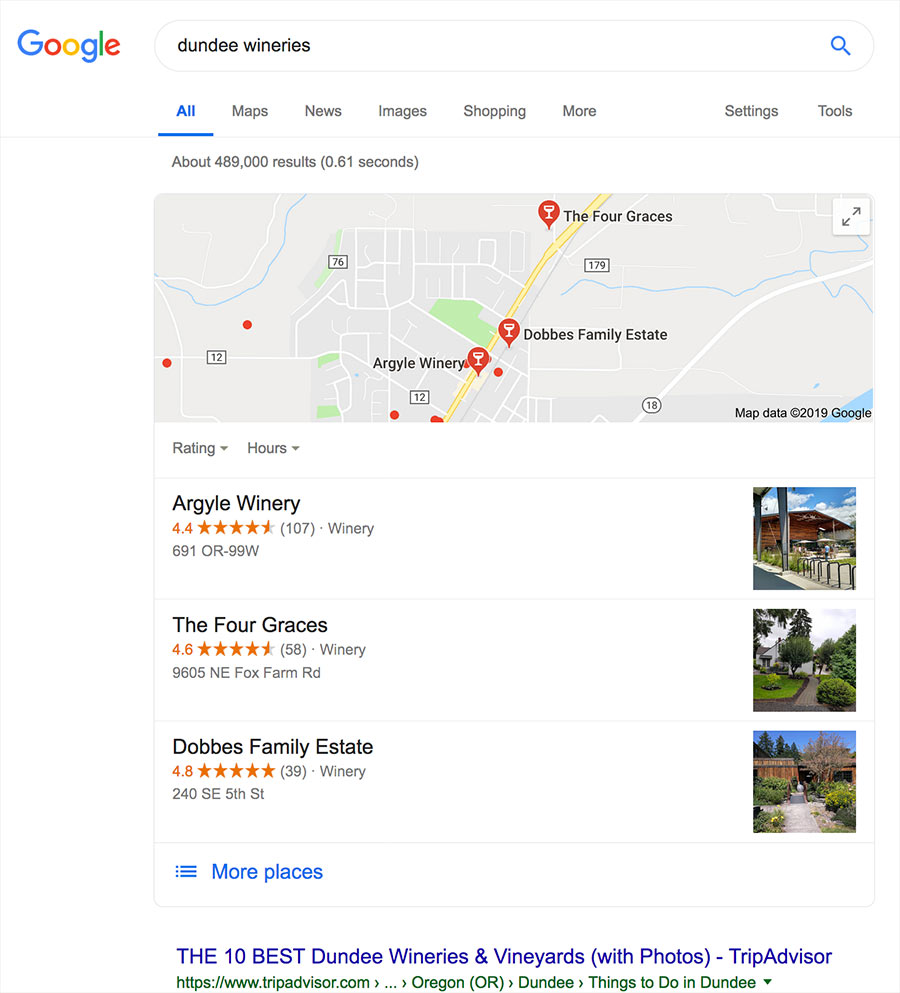 Prior to seeing any actual website links, they're going to be looking at a map listing, with the top 3 results showing up beneath the map. This is known as the "map pack."
That map section what you should be most focused on. Most people aren't even going to scroll beyond it to look at the winery websites that show up, because it's mostly dominated by publications and travel/review sites.
How Do Wineries Optimize For The Map Pack?
First off, if you're not one of the three places to show up when someone searches for wineries in your city, it's not the end of the world. People often click on the map itself to see more results, which shows a larger list of wineries ranked by their map optimization.
Plus, some consideration is given to how close the winery is to the person searching. So the further your winery is from the center of Dundee Oregon, in the above example, the less likely it is to show up (unless it has a disproportionately higher number of reviews).
Obviously the higher you are in this list, the better, and if you can land one of those three slots that show up immediately, that's the best.
So how do you get your winery to show higher in the map pack?
Basically, there are two major factors:
On-Site SEO
A complete Google My Business listing with lots of 5-star reviews
Those are the two most important things for you to focus on for your winery website.
Let's break that down:
On-Site SEO
On-Site SEO refers to the adjustments you make on your own website to try and get Google to show you first for a particular search phrase.
There's a LOT you can do here, but some things are more effective than others.
Let's pretend you have a winery in Dundee, Oregon. Here's what you should definitely do:
You should have "Dundee Winery" somewhere in your title tag and/or somewhere in your meta description tag.
The word Dundee should appear in your website content at least once, especially in an H1 tag.
Your address should be listed in the footer of your website.
Your website should load FAST.
Your website should be responsive, and be easy to use on mobile devices.
Those are the simplest, most effective things you can do to improve your winery's On-Site SEO.
For more, Moz has a great On-Site SEO list here. Be warned it gets pretty technical.
Google My Business Listing
Having a strong Google My Business (GMB) listing has become more important than ever in the last year. In fact, it's honestly probably more important than your On-Site SEO.
A GMB listing is the card that shows up next to the search results with your business info in it.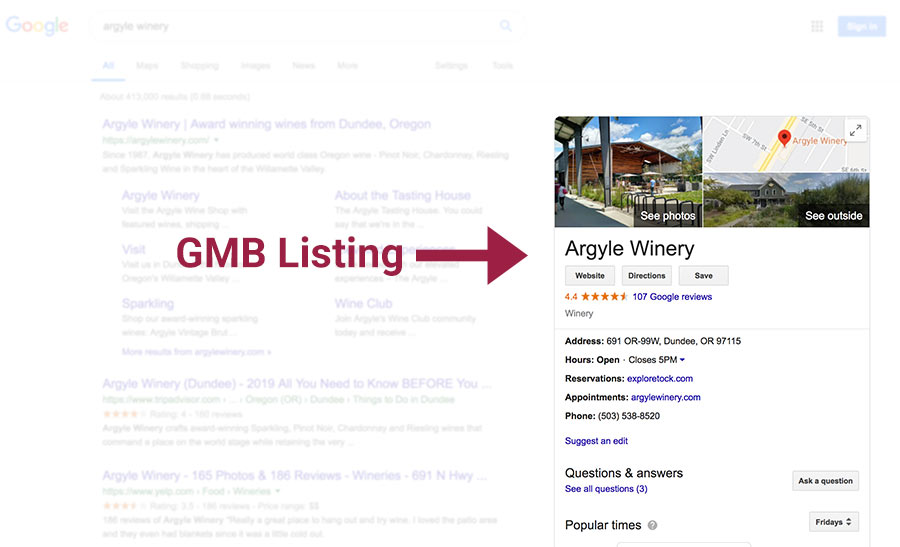 Two things make for a strong GMB listing:
Number 1, A completely filled out listing.
That means make sure you are listing your hours, address, website, phone number, reservations link if applicable, events if applicable, good photo, 360 tour if possible.
You've probably got most of that stuff set up already, I hope 🙂
Number 2, Reviews.
Simply put, you need reviews. Lots of them. As many 5-star reviews as possible.
This is probably the biggest SEO factor that wineries need to pay attention to in 2019 and the foreseeable future.
Notice in the search results for "dundee wineries" way up above, Argyle is the top result? They have by far the most reviews of any winery in Dundee. Following is The Four Graces, with the second highest amount of reviews of any winery in Dundee. Dobbes Family Estate of course has the next highest amount of reviews. You get the picture.
It's not ALWAYS going to be that the wineries will be perfectly ordered by number of reviews. Remember that proximity to what Google considers the city center plays a role, as do On-Site SEO factors and more. But in general, you will see wineries with more reviews first, and wineries with 0 reviews way at the end of the list.
Two action items here:
👉 For the reviews you have, make sure you respond to every review, good or bad. This helps your score.
👉 Get LOTS more reviews.
We use Facebook Messenger Marketing to automatically ask for a review after the customer has visited the winery.
You can plant the seed about leaving a review during the tasting, whether by mouth, on an informational pamphlet, a sign hanging in your tasting room, etc.
You can include a link to leave a review in the email receipt.
The list is endless, but our favorite is through Facebook Messenger automation.
Just get those reviews. They matter.
Your Website Matters Too
You've got your SEO tight, you're showing up #1 in your city…
But your website is outdated and hard to use on a mobile phone?
Kiss at least half of your website visitors goodbye.
Your website is the first impression most people are going to have with your winery. It's how you communicate what the experience of being at your winery FEELS like.
I've gone wine-tasting with somms who have scratched wineries off our list because their website was bad. Once, I recommended we visit one anyway and guess what? It was BEAUTIFUL, and had some spectacular pinot noirs.
It's really too bad that this happens ALL THE TIME to wineries with outdated websites. "Nah, let's not visit them, I can't really get a sense that they'd be worth visiting from their website."
Suffice it to say, your website needs to make a good impression, or the SEO will be for nothing.
That's A Wrap
I hope this was helpful to you and gives you a good idea of how to improve your winery's SEO.
Go get those reviews! 🍷