Not long ago, we broke the ice on a brand new method of marketing for wineries to know: Messenger Marketing. No other wine-industry marketing agency is talking about this stuff, so it's exciting to be the first to shine light on it.
This week, we're going to illuminate an important aspect of Messenger Marketing that wineries should most definitely pay attention to:
Compliance. Specifically, with Facebook's Messenger Platform Policies.
Let's explore this un-sexy but necessary subject.
Wait… There Are Rules?
Well, of course. Email has rules as well — GDPR and CAN-SPAM, anyone? — and you'll soon find that Facebook's rules aren't nearly as restricting.
Everyone knows that Email is rife with spam, endless promotions, and other junk nobody has time for. Facebook doesn't want their insanely popular Messenger app to become flooded with that junk.
Facebook's platform is also relatively new. They want to make sure that it retains its popularity, and doesn't lose the trust of 1.3 billion active users.
So as users of this platform, we all bear some responsibility in keeping Messenger excellent and spam-free.
Cool? Cool. Now let's check out those rules.
Here Are The Rules
To start, let's look at the rules on when you can message your subscribers, and under what circumstances.
1. Standard Messaging — The 24-Hour Policy
Once a Facebook user sends your winery a message, you have 24 hours to respond with as many messages as you want. You are allowed to send promotional message during the 24 hour period.
This is what Facebook considers "Standard Messaging." Outside of this 24 hour window, you are only allowed to send one additional message. (These rules also apply to live chat support and website messenger integrations.)
HOWEVER, each time a person responds to you in messenger, your 24-hour window for that person is restarted. The same applies for when a person clicks a button within your messenger conversation.
NINJA TIP: You can use the additional message to get the person to respond, or to click a button you include in your message, and voila! The window is now reset and you have another 24 hours to promote to your heart's content.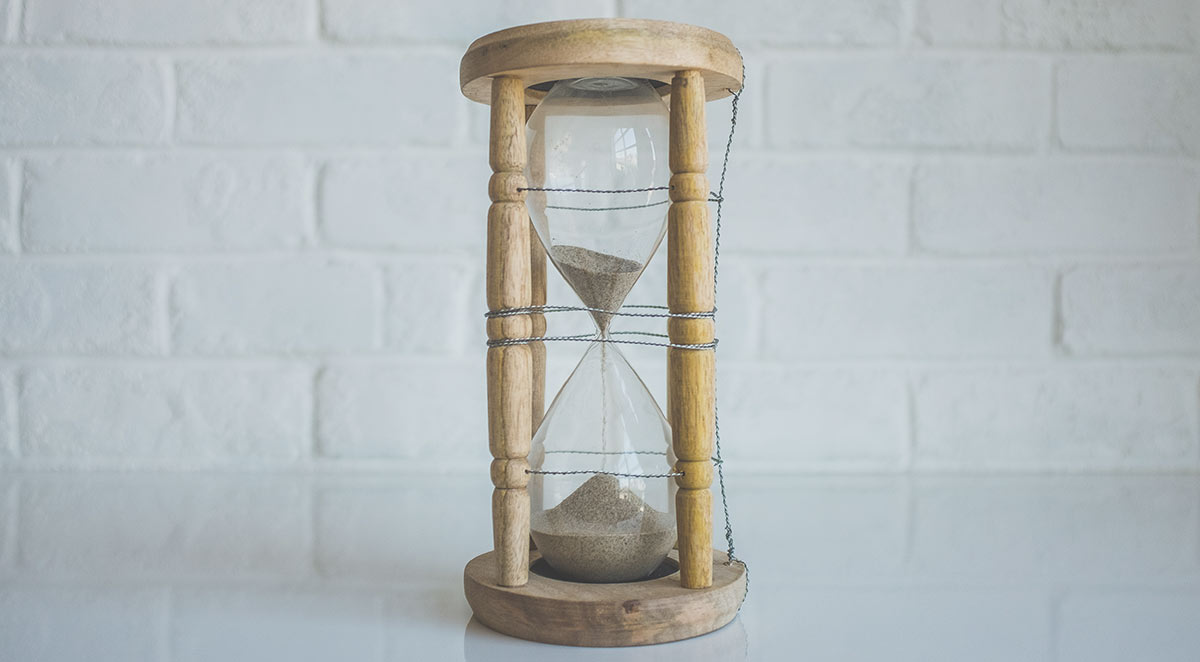 2. Subscription Messaging Policy
Subscription Messaging is basically email marketing but in Facebook Messenger. Your subscribers must opt-in to receive these messages. Using a platform like ManyChat, simply interacting with your messenger bot immediately opts people in, so it's up to you to inform them afterwards and give them an easy opt-out (we usually do this on the first subscription message we send out).
Subscription messages do not count towards the one additional message outside of the Standard Messaging window. There's no written limitation on them in terms of when or how many you can send.
Wineries can send messages about things like events, polo matches, weddings, weather and closures, live music, blog posts, general updates, and more.
Subscription messages CANNOT contain advertising, marketing, solicitations, or promotional content. So you can't send out a message about a summer special on your rosé with a link to buy.
BUT… like with Standard Messaging, if a user responds to your message or clicks a button in your message, then you're back in the Standard Messaging 24-hour window and you can promote all you like.
So, with Subscription messages, be tactful. Pique your subscribers' curiosity, get them to engage with you, and THEN you can promote. And yes, you can automate that entire process with ManyChat.
Facebook isn't a place for spam, one-sided conversations and unceasing promotions. So while some might think of this as a barrier, I believe it to be quite helpful. It keeps your subscribers engaged, and ensures that your promotions are being seen by the right people.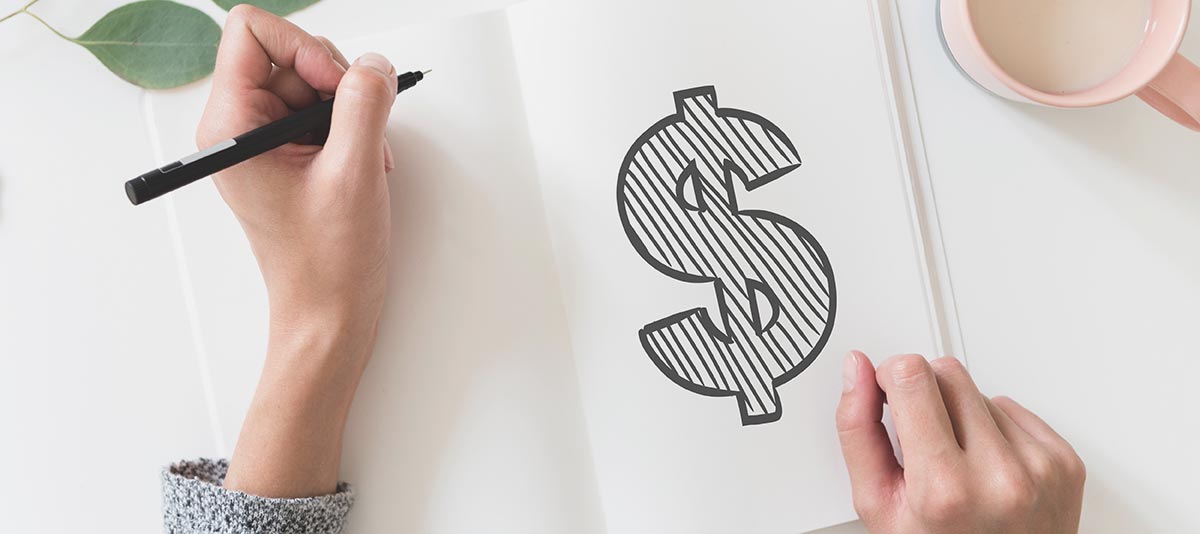 3. Sponsored Messaging Policy
If you MUST send a promotional message outside of the Standard Messaging timeframe, Sponsored Messaging is your tool.
As the name implies, Sponsored messages cost money to send. They allow you to send promotional messages to your subscribers at any time.
They're also annotated in the Messenger window with "Sponsored" appearing above the message.
There's almost no good reason to use these, unless you've having 0 success with Subscription messages that follow through to a Standard Messaging promotion. And honestly, if that's the case, just let us know and we can help.
Miscellaneous Rules
Messenger bots like ManyChat must respond to any and all user input within 30 seconds. This is fine, because by default they reply instantly. You can change this by adding "typing" delays, which we usually include to humanize the conversation (around 3-5 seconds per message).
Note that the above applies only to bots that are fully "Automated" (rather than "Manual" or "Hybrid").
An Automated bot basically communicates all on its own, without any intervention from you or a staff member. With a Manual bot, all responses are sent manually from you or a staff member.
Hybrid is, of course, a mix of the two. If your bot has automated messages but also allows you or someone from your team to step in and talk, it's a Hybrid bot. This is the ideal bot to build, and the only type we build.
Finally, of course, conversations must be started by the customer, not by your business.
You can read more about bot types and messaging responsiveness here.

Blah Blah Blah… How Can I Use This To Sell Wine?
Great question. Here's a few ideas to get your gears turning.
(If you skimmed to this part, you may have missed a section above that explained how you can use Subscription Messaging to reactivate Standard Messaging. Re-read that if you don't understand some of what you find below.)
Method #1: Ask Questions, Pique Interest, Get Engagement
Don't just send out a one-sided promo message — get your subscribers to interact with you first!
You can start each Subscription message with a question. People love answering things about themselves, so put your people skills to work here.
Let's say you're running a promo for a summer pack (let's say it's chardonnay, rosé, and pinot gris). You're selling 6-packs at 5% off + $20 flat rate shipping, or a case at 10% off with complimentary shipping.
Rather than leading with the promo, try something like "Are you a fan of Rosé?" "Do you love discounts?" "Did you hear about our summer pack?"
Include a button (or more) to allow the subscriber to engage, and bam! Promo followup.
Here's what a buildout of that might look like…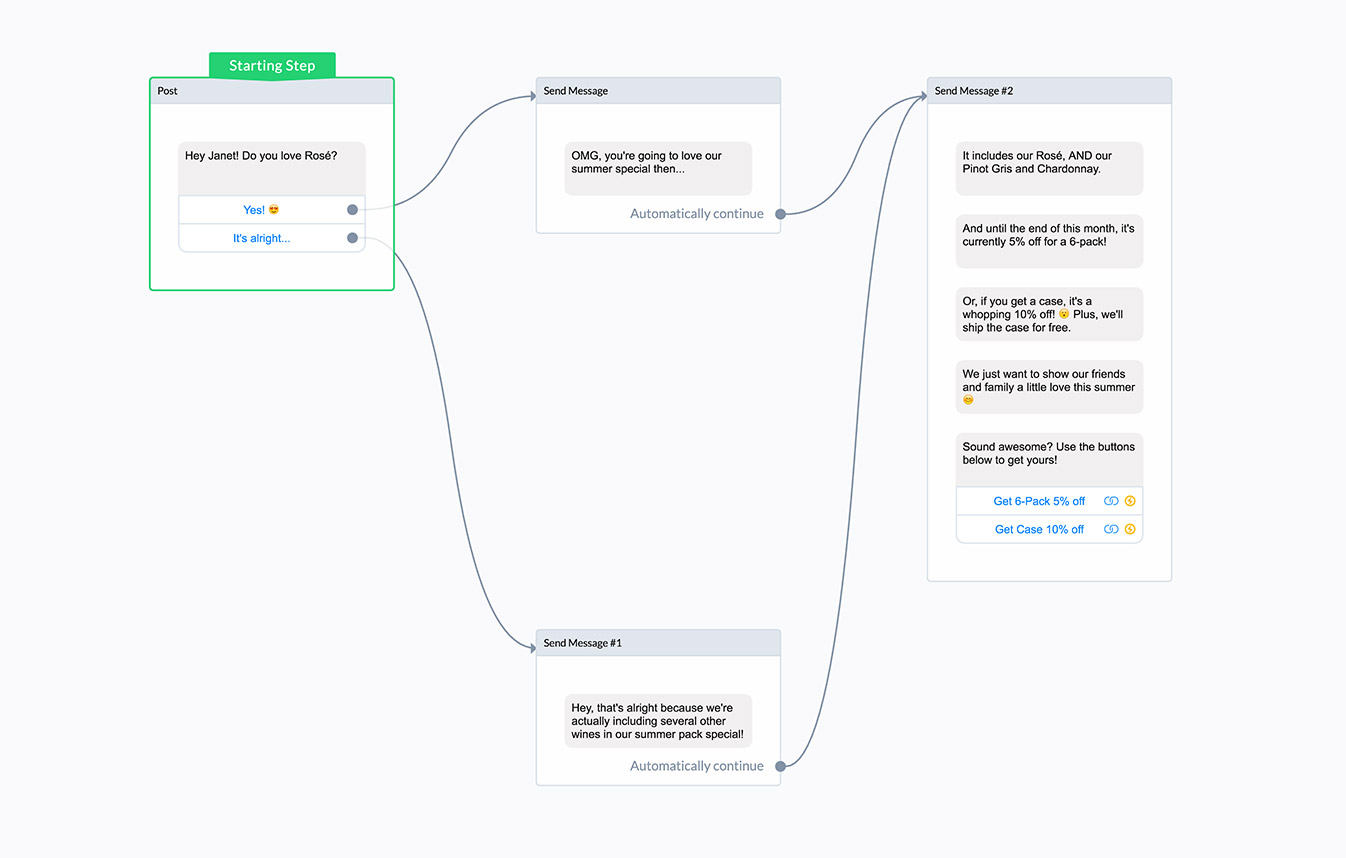 When your subscribers click the "Yes! 😍" or the "It's alright…" button, you can promo as hard as you want for the following 24 hours. That means the rest of the messages in the flow above are 100% compliant.
And guess what? In the example above, now you know who your Rosé fans are. You can segment these people based on their button click, and use that info in the future to give them highly-relevant messages and promos.
Method #2: Link to Facebook Live Videos
Let's say you're having a new release party and you decide to shoot a Facebook Live Video (which you should do regardless). Well, just send out a Subscription message that links to it! Simple as that.
And guess what you can do in the video? Include your call to action (buy this wine online or visit us), both in the video description and in the video itself.
Method #3: Giveaways
A great way to sell is to get people excited. Giveaways do just that. With emotions primed, they're more likely to purchase what you sell afterwards.
So for example, let's pretend we're in the month of May. Hey, it's Oregon Wine Month! You want to run a special deal, but you don't have a lot of subscribers yet. Maybe you've only got 50 so far.
Giveaway a free tasting, like below.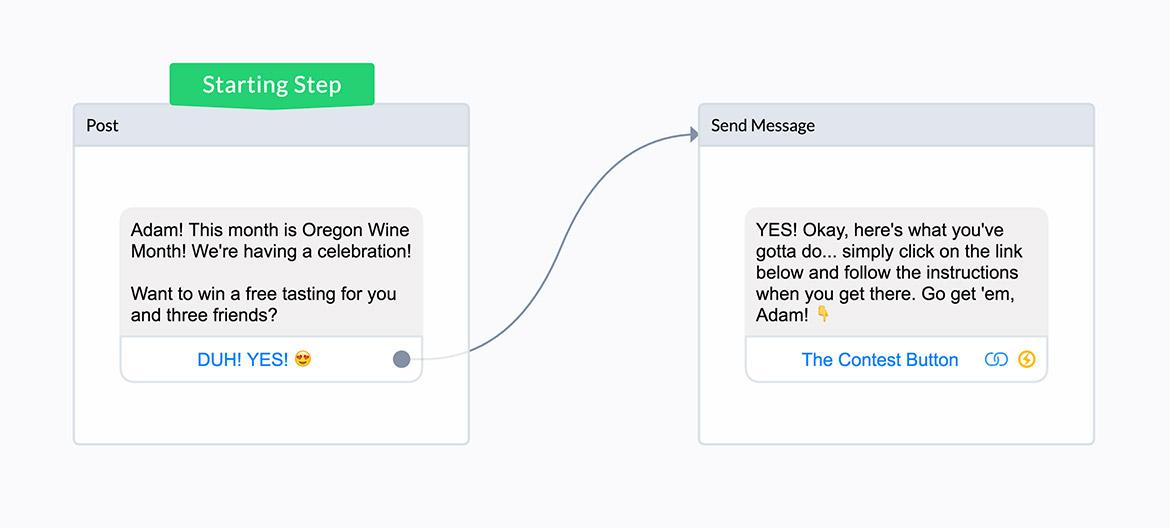 Then, link The Contest Button to a post on your winery's Facebook Page with the contest details.
For example: "👉👉 Want to win one of 25 free tastings we're giving away this month? Give us a ❤️/👍, say the word TASTING below and pass it along on your wall"
As this post gets high engagement and shares, more and more people enter into your contest.
Meanwhile, the Comment Growth Tool in ManyChat automatically sends a message to each person who comments on that post. You get to sit back, sip a glass of your favorite Pinot Noir, and watch your subscribers grow at a shocking rate!
And of course, now that they're subscribers… you can send them Subscription Messages.
Get Started!
I hope this post gives you more clarity and a few ideas on how you can use Facebook Messenger Marketing to sell your wines. Following the guidelines above, you can do this in total compliance with Facebook's policies, and do so in an engaging, conversational way.