When we partner with a new winery to handle their digital marketing, we often get asked questions like "which social networks should we be using?"
And we get it – there's a plethora of social media platforms out there to choose from. It's understandable that one might feel overwhelmed when deciding which ones to invest your time into.
Truthfully, the answer isn't as overwhelming as you might expect.
When thinking about which social networks a winery should use, we need to examine the following criteria:
Which networks are you currently using, and how big is your following on each?
If you have a large following on a network we don't usually propose you use, then we suggest you continue to use it! It's always best not to leave your fans hanging, especially when you have an established audience.
On the other hand, if you've invested a lot of time into putting content out on a lesser-known network and you just don't have the followers to show for it, it might be time to abandon that platform and choose a larger one.
What is it you're looking to post? (A couple paragraphs? Maybe just an image?)
Certain social media networks lend themselves better to certain types of content. You aren't going to be posting a two paragraph story to Instagram – you'd be posting an image, or perhaps a video which tells that story.
Of course, just because Instagram is great for images doesn't mean you shouldn't post an image to Facebook. Images work great on Facebook!
As we go through the popular networks below, we'll tell you which types of content are best suited for each network.
Which social media platforms are other successful wineries using?
Sometimes the best way to figure out whether or not something is worth using is to check to see if the top players in your industry are using it.
That's not necessarily an absolute rule, and if everyone only did what everyone before them had done, there'd be no innovation in this world. Still, unless you are an expert at this stuff, you should copy what the best are doing and innovate from there.
What's your desired end result of posting your content?
Do you want to get email signups, sell a wine, or put heads at your event? Having your desired outcome in mind for the content you're planning to post will help you determine which network it would best achieve that outcome on. Actually, it'll help you quite a bit more than that – it will also help you plan the content itself.
Let's examine several of the key social networks with these questions in mind.
Facebook
As the largest and most robust social media platform currently out there, Facebook should be getting the most of your attention. On Facebook, you have the greatest options at your disposal to grow your following and to solidify your relationship with your current fans.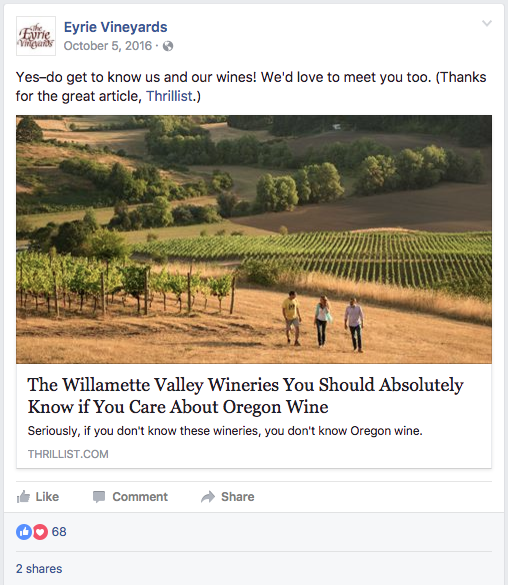 Current following size?
To be honest, It doesn't matter if you only have 14 fans right now – you absolutely need to be focusing your efforts on Facebook.
Which Post Types?
Here's a tip: most everything you post should be posted to Facebook, in addition to wherever else you post it. Facebook is a much better place to be posting text updates than many others, but you should also use it to post videos, pictures, and links to articles or other websites.
If you're going to be posting something text-heavy, keep it to one or two short paragraphs. Injecting personality into your post will make its length easier for your audience to read through.
Are other successful wineries using Facebook?
Most definitely. Pretty much every winery you can imagine is using Facebook, so we won't list any examples.
End goal?
Because Facebook is great for all types of content, and because it's by far the most popular social network today, we recommend using Facebook for pretty much any desired result, whether that's boosting sales for new wine or getting people to come take a tour.
Instagram
While many people just use Instagram to brag about the food they're eating, wineries can grow a robust following by taking beautiful pictures of their scenery and culture. Scenic photography performs extremely well on Instagram, and because vineyards are often such marvelous sights to behold, this social network is an excellent choice.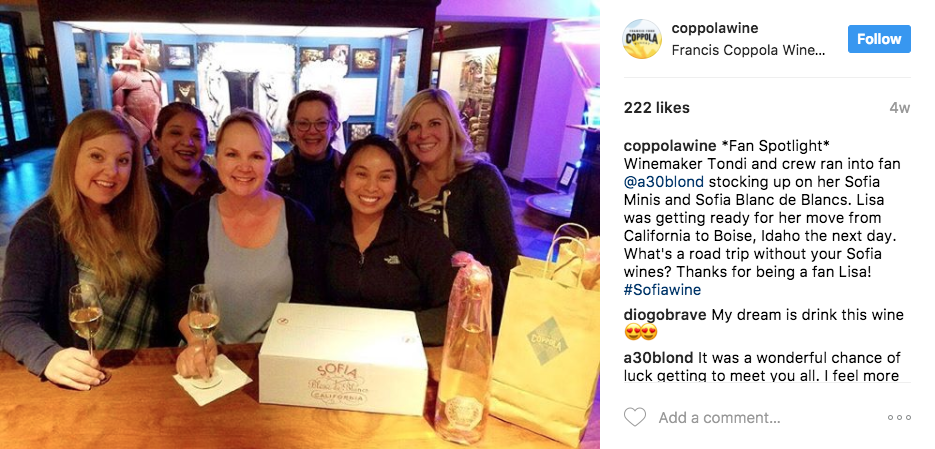 Instagram makes it easy to capture photos like the one above and share them throughout your day. However, you cannot put links in photo captions, which makes sharing other content more difficult than on Facebook.
Current following size?

Again, if you have just a small following on Instagram, that doesn't mean you should give up on it. Instagram is a very good place to be reaching the millennial generation of wine consumers, as many of them are more active here than on other networks.
Which Post Types?

Instagram is designed with the smartphone in mind, with a streamlined process to take photos and upload them. The only thing you can upload to Instagram are pictures and videos, but you can add descriptive text that shows up beneath each thing you post. You can use this space to refer viewers to a website link in your Instagram profile, or to give the details on a special contest you're running.
Are other successful wineries using Instagram?

Yes, though surprisingly, wineries with large Facebook followings don't necessarily always have large Instagram followings. Still, Domaine Drouhin and Sokol Blosser are just a couple examples of wineries that are using Instagram effectively.

End goal?

Instagram isn't as effective for audience-interaction as Facebook is, so if you're running a contest or promotion that will need a more elegant solution to responding to your fans, consider Facebook. That doesn't mean you can't run a contest on Instagram, of course. Because Instagram prevents links in the photo description from being clicked, we find Instagram is great for being seen, and ushering that traffic elsewhere via your profile (like to your Facebook page, perhaps!)
Pinterest
Here's a little secret: Pinterest is where just about everyone goes when they're planning their wedding. And we all know that wineries and weddings go hand-in-hand 🙂
Sure, you can use Pinterest to push a product. But in our opinion, the real beauty of it is in presenting content in a way that people look for content there, rather than trying to "advertise" to them in a way they're not used to seeing. Just take a look at these suggested searches for a glimpse into how people are using Pinterest: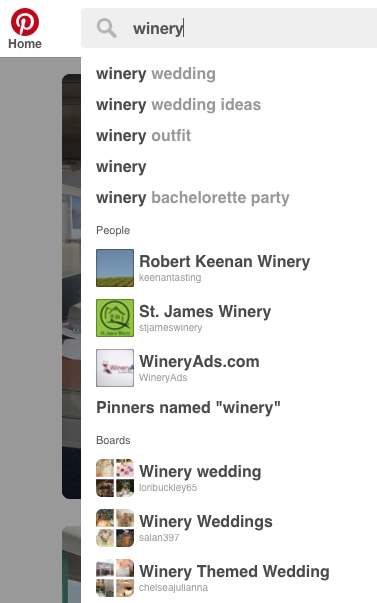 Some people advocate a very old-school approach for wineries to be using Pinterest, but we say: use Pinterest like a human, and give people what they're looking for.
Current following size?

Because Pinterest is a very visual site but isn't nearly as widely-used as Instagram, we don't necessarily recommend using it unless your following is already strongly established. That said, we don't recommend AGAINST using it; we just aren't as strong an advocate of it as we are Instagram, and the fewer things you have to manage, the better.
Which Post Types?

Pinterest, like Instagram, is a visual playground. Imagery will get you far here.
Are other successful wineries using Pinterest?

Yes, though not as many as Instagram. St Francis Winery, Sokol Blosser, and Stone Hill Winery to name just a few. Stone Hill, by the way, is making excellent use of theirs by creating boards called "Wedding Ideas," "Gift Ideas," and "Wine Bottle Ideas." Precisely what Pinterest users are looking for.
End goal?

Like Instagram, Pinterest is great for gaining visibility. Unlike Instagram, you can include clickable links in your pins, which makes moving traffic to your website or Facebook page much easier. This is good if you want to build an email list.

Twitter
Twitter is a peculiar social network in that it's very limited – "tweets" have to be 140 characters or less, so you have to fit everything you want to say into a very strict space. To put that into some perspective, this sentence alone has precisely 120 characters and is comprised of 20 words total. Not much got across in that amount of words, so you have to be very brief. You can of course post more than just text to Twitter; it also hosts image and video post types.
It's important to understand how people use Twitter to begin with. While it boasts a couple-hundred million more users than Pinterest, Twitter is primarily comprised of users who go there to check to see what's going on in the world (or "their world"). Meanwhile, 93% of Pinterest users report that they use it to plan to make purchases, and that includes making vacation bookings.
We don't mean to start a battle between the two networks as they're obviously very different. This also isn't to say that a winery can't successfully use Twitter to boost their business. But given the limited time a winery is able to devote to handling their social media, it seems better spent on a better-performing, more audience-appropriate network.
That said, it doesn't hurt to snatch up a Twitter page for your winery – that way, no one else can.
Current following size?

Unless your winery has a large following on Twitter, we don't recommend focusing much energy on it.
Which Post Types?

Like Facebook, Twitter allows you to post multiple types of content including plain text, images, and video. And, like Facebook, it's always more effective if you are able to include an image or video in your post.
Are other successful wineries using Twitter?

Certainly there are successful wineries using Twitter, Sokol Blosser for one, and Coppola for another. Some brands get so large that it becomes imperative that they use it. Still, even with relatively large Twitter followings, these wineries' follower engagement is incredibly low.
End goal?

As stated above, Twitter is great for staying up to date on things. News style posts and updates are appropriate here.
Consistency Is Key
No matter what social media network(s) you choose, be consistent – your fans want to hear from you!
For most wineries, the hardest part about using social media is finding good content to post. Feel free to check out our free guide on how to use Facebook as a winery.